Peakshunter Mountain Guides
Certified IFMGA Mountain Guides with registered office in Aosta Valley, close to famous Mont Blanc
We offer many years of experience for outdoor activities in Italy and Europe, individuals or groups.
We guarantee safety, technical preparation and professional competence in all high altitude activities.
We love to share our passion for the Mountain and transmit the fundamental values ​​of Nature.
SEARCH IN OUR PROGRAMS THE BEST OFFERS TO REALIZED YOUR ADVENTURES IN WILD NATURE:
SHARE THE BEAUTY OF THE MOUNTAINS, CLIMBING A 4000M SUMMIT, ALONE OR IN A GROUP!

NEED
HELP?
---
"The Breathe of the Mountain"
in collaboration with Francesco Pierini Photographer
The idea of this project starts from an itinerant photographic journey carried out at the begin of March 2021 in the Central Apennines (Gran Sasso massif): Prati di Tivo, Campo Imperatore and Val Chiarina are some of the places we explored during our tour, skis on feet. Our goal was to document the effects of the pandemic on the mountain environment, through a multi-dimensional tale on current issues: the lifts closing, the Covid-19 restrictions to outdoor activities and disciplines compatible with the lockdown, including, first of all, ski mountaineering.
DOWNLOAD PDF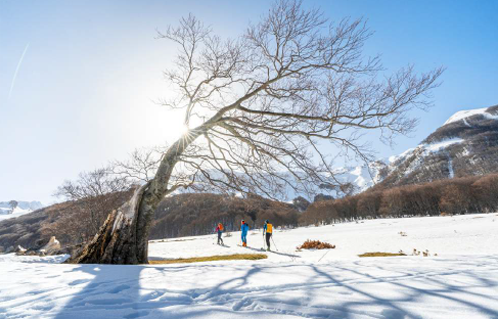 SUMMER PROGRAM
Outdoor activities – Individual and group hiking – Family Trekking – Climbing on 4000 Alps

Stage Matterhorn
A week dedicated to ascents of increasing difficulty to quickly improve your technical skills and hone your physical training.
A programme designed specifically to prepare you for climbing the Matterhorn!
Read more